Bridon Cordage's Twine Category Relaunch
Bridon Cordage / September 26, 2017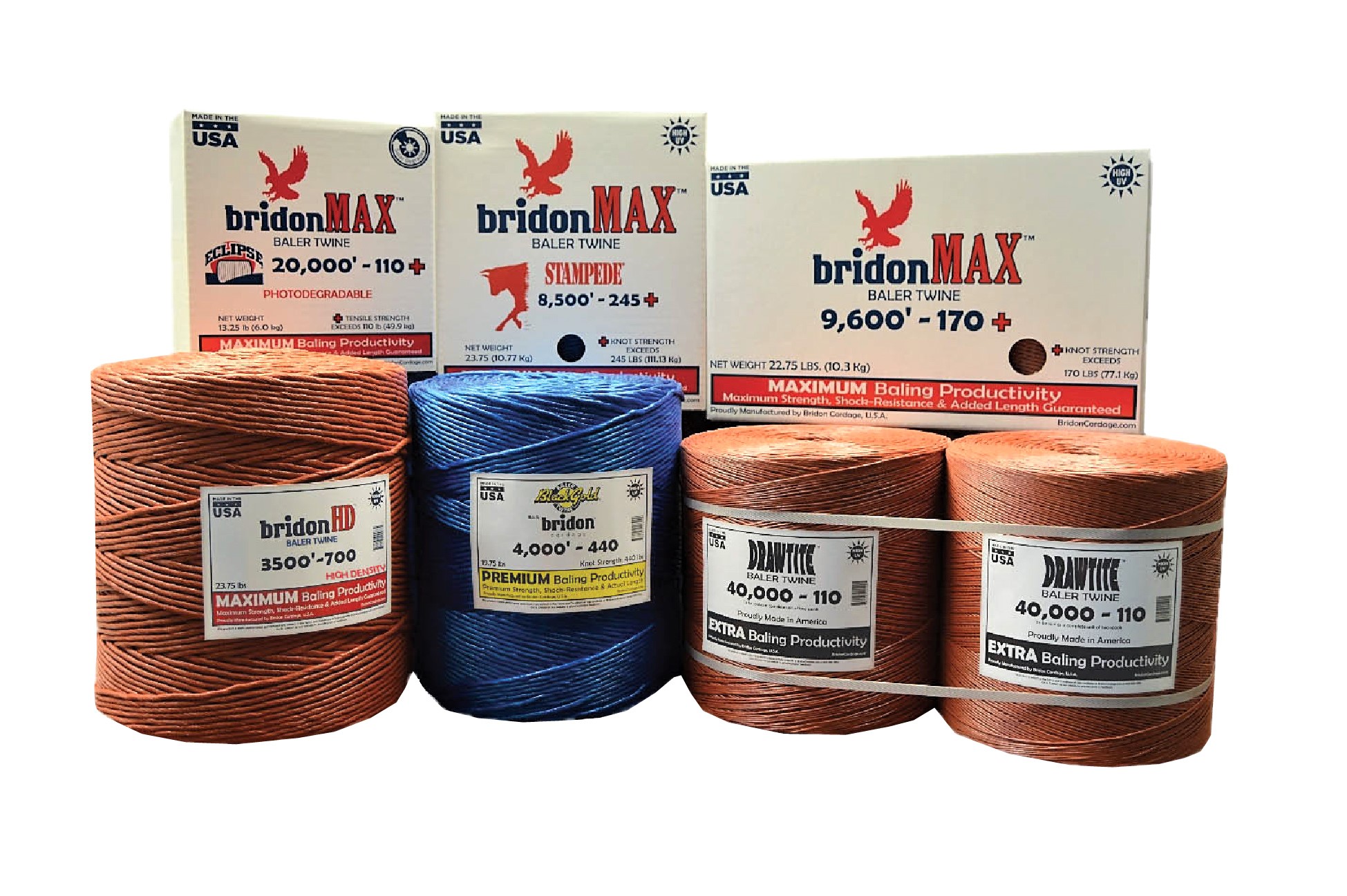 ---
As part of Bridon Cordage's continued commitment to delivering the best customer value and highest quality, Bridon announces a new system of classification for the agricultural baling twine industry. Comparing labels has never been easier and you should only pay for the productivity level you require. Bridon will now clearly define and align its twine products within 3 Best-In-Class productivity categories – MAXIMUM, PREMIUM and EXTRA Productivity. From competitive testing within the industry, we have defined these categories as follows:
Bridon's classic BRIDON CORDAGE™ product line remains a MAXIMUM Productivity line in added strength and also added measured lengths, providing the best productivity compared to major competitors.  This line is now called BridonMAX™, is 100% performance guaranteed, and has improved packaging to highlight its proven advantages in this very elite MAXIMUM category.
Our existing BlackGold® line tests at a significant premium to standard twines for strength and meets all label claims, which many competitors do not, especially when measuring actual length. BlackGold's actual lengths provide the best value per actual foot at a similar price compared to other premium competitors.  BlackGold® is our PREMIUM Productivity offering, is also 100% performance guaranteed, and has improved packaging to emphasize the Bridon Cordage name and the PREMIUM category features.
Lastly, Bridon is adding a new EXTRA Productivity line that is proudly made by us in America, with the same Bridon Quality that customers trust, at similar pricing as many lower cost import twines. Bridon offers improved value per actual foot – with higher actual tested strength and longer actual tested length – than most competitors who provide a standard strength offering in this value category.  This new line is called DrawTite™, and proudly bares our name and the EXTRA Productivity category rating.
BRIDON CORDAGE is a division of Great Lakes Polymer Technologies, who is the global leader in innovative polymer engineering. With over 40 years of commitment to excellence, customer service, and driving innovation, we guarantee customer satisfaction. Bridon offers twine, net wrap, and ancillary baling solutions for all crop conditions and productivity requirements. Visit our website, BridonCordage.com, or contact our Customer Support staff at 800-835-3255 for the complete line of Bridon Cordage baling products. Also, be sure to subscribe to email updates on our website.
---